PDF Preview: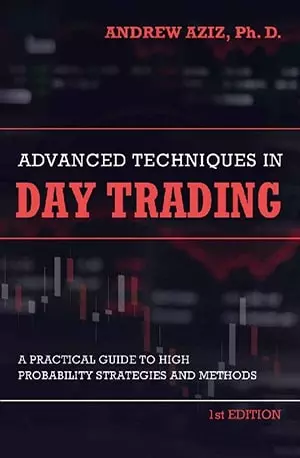 PDF Title

:

Advanced Techniques in Day Trading
PDF Content

:

8 Chapters (full)
Total Page

:

394 Pages
Author

:

Andrew Aziz
PDF Size

:

8.5 MB
Language

:

English
Rights

:

bearbulltraders.com
PDF Link

:

Available
Summary
Here on this page, we have provided the latest download link for Advanced Techniques in Day Trading PDF. Please feel free to download it on your computer/mobile. For further reference, you can go to bearbulltraders.com
Advanced Techniques in Day Trading – Book
A good entry defines an excellent risk/reward. You may recognize a trading opportunity correctly, but if you cannot find a good entry with a proper risk/reward ratio, you should not take that trade. Instead, you should keep monitoring your chart until you find a good risk/reward ratio.

To illustrate this point, let's review Figure 7.11, where I explain two potential trades on SQ. You recognize an Opening Range Breakout toward 200 SMA on your 5-minute chart, and you would like to go long, but you notice it at 9:45 a.m. when the price is almost at $41.75.

That is a profit of 75 cents toward 200 SMA at $42.50. But, to enter that trade, you have to define a risk below VWAP at $41, a risk of 75 cents per share. This is a 1:1 risk/reward, an undesirable risk/reward ratio, so you should not take the trade at that time.

Ten minutes later, at 9:55 a.m., SQ's price has dropped to $41.50, and now you are thinking of going long toward 200 SMA. Now the risk/reward ratio is in your favor: your stop loss can be at VWAP, around $41.25 (please note that VWAP has moved up from the $41 of 10 minutes ago), with a profit target still at $42.50. This is now a 1:4 risk/reward ratio. It's the same idea, but a different entry provides a different risk/reward opportunity, and that makes a huge difference in your trading result.
Advanced Techniques in Day Trading PDF
Why you should buy from amazon?
It is always better to buy books in order to support the authors and publishers. As the hard-working writer diligence should be paid off.

Know more about our initiative
Help us to serve you better. Rate this PDF
[ Total:

3

| Average:

4.3

]