PDF Preview: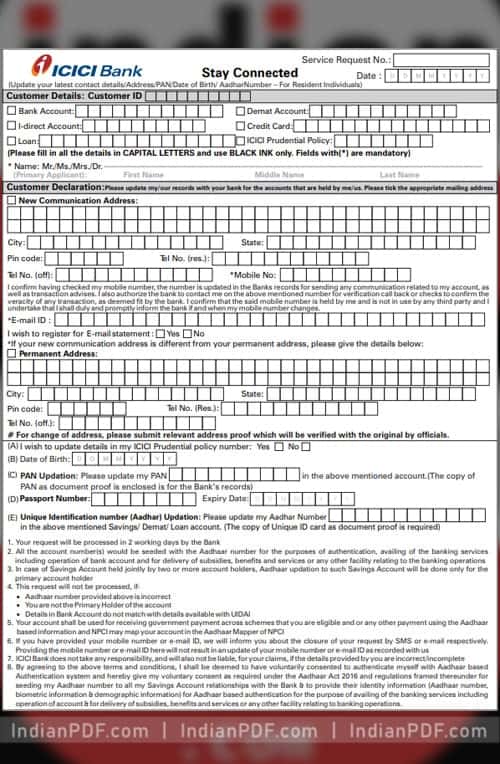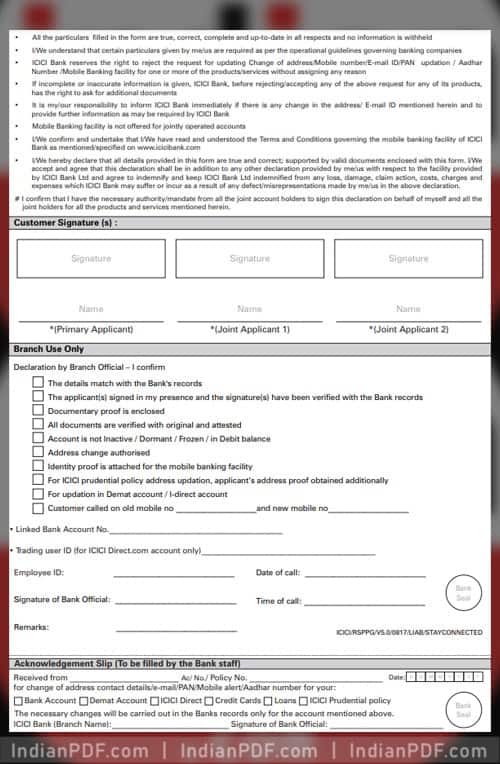 PDF Title

:

ICICI Bank Address Change Form
Total Page

:

2 Pages
PDF Size

:

0.42 MB
Language

:

English
Source

:

icicibank.com
PDF Link

:

Available
Summary
Here on this page, we have provided the latest download link for ICICI Bank Address Change Form PDF. Please feel free to download it on your computer/mobile. For further reference, you can go to icicibank.com
ICICI Bank Address Change Form
As the name suggests, the provided bank form will be used if one wished to change the bank address. But, there are few things (as per icici bank) that you must know.
1. Your request will be processed in 2 working days by the Bank.
2. All the account number must be seeded with the Aadhaar number for the purposes of authentication, availing of the banking services including operation of bank account and for delivery of subsidies, benefits and services or any other facility relating to the banking operations.
3. In the case of a Savings Account held jointly by two or more account holders, Aadhaar updation to such Savings Account will be done only for the primary account holder.
The submitted request will not be processed, if…
The aadhaar number provided above is incorrect.
You are not the Primary Holder of the account.
Details in Bank Account do not match with details available with UIDAI.
To begin, one must fill up his/her bank account number in the given boxes. (only fill up that box, which is related to you i.e. Bank Account, Demat Account, Credit Card, Loan, ICICI Prudential Policy etc.)
Fill in your registered name (as per your bank account).
* Name: Mr./Ms./Mrs./Dr _______________.
Now, you will find a customer declaration section where you have to fill in your details that you want to update in your account.
You can either change your New Communication Address, Permanent Address, Mobile Number, Email ID, and so on.
NOTE: For changing the address, please submit relevant address proof which will be verified with the original by officials.